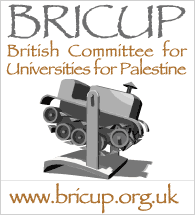 BRICUP Newsletter 83
January 2015
University of California Student Workers Achieve Landslide BDS Vote as the First Labor Union in the USA: a report from the USA
December 4, 2014 marked a decisive victory for justice in Palestine. The labor union representing 13,000 student workers of the University of California, the United Auto Workers (UAW) local 2865, voted to call on the UC system and UAW international, to divest from companies supporting and profiting from the Israeli colonization of Palestine. It also called on the US government to end military aid to Israel. Sixty-five percent of voting members voted to pass divestment and sanctions; while fifty-three percent pledged not to "take part in any research, conferences, events, exchange programs, or other activities that are sponsored by Israeli universities complicit in the occupation of Palestine and the settler-colonial policies of the state of Israel," until such a time that these universities take steps to end complicity with dispossession, occupation, and apartheid in Palestine.
The vote follows several years of monumental student divestment victories at six out of the nine UC campuses; efforts that ultimately set an alternative political climate for how Palestine is taken up amongst the new generation of student organizers on University campuses in the US.
These efforts were largely lead by various chapters of Students for Justice in Palestine (SJP) as well as the growing academic boycott initiatives supported by the US Campaign for the Academic and Cultural Boycott of Israel (USACBI). In the last two years alone, major US academic associations have voted to adhere to the academic boycott including the Association of Asian American Studies, the Native American and Indigenous Studies Association, the Critical Ethnic Studies Association and the American Studies Association.
While BDS campaigns have grown across the globe and have particularly taken off in the US in more recent years, the significance of the UAW 2865 victory deserves special attention. It offers Palestinians of the global Diaspora, Palestine solidarity activists and labor organizers new ways to imagine how we might achieve more sound wins while also maintain justice-centered principles, practices and politics as we cultivate our strategies.
On July 29th, 2014, the Joint Council of UAW 2865 released a statement in solidarity with Palestine declaring their full support for Boycott, Divestment and Sanctions (BDS) and announced that they were preparing for a full membership vote to take place in the upcoming academic year. This letter came as a response to calls from Palestinian trade unions, students, civil society and transnational Palestinian communities to join BDS efforts as a tangible way of standing in solidarity with the Palestinian people in their struggle for liberation. The urgency of UAW 2865's response was undoubtedly fueled by this past summer's devastating assault on the Gaza Strip which by that time had stolen nearly 1,100 lives and destroyed, for the third time, nearly all of Gaza's infrastructure and countless homes.
The letter drafted by UAW 2865 leadership set it apart from other BDS initiatives because it placed Palestinian suffering within the historical continuum that commenced with the catastrophe of 1948, displacing nearly 750,000 Palestinians, who until today are denied their right to return to their homeland. The Joint Council accounted for all of the Palestinian population: those in the occupied territories, in 1948 Palestine, living in refugee camps across the Arab world, and in exile transnationally. Additionally, the Joint Council recognized the importance of situating Palestine within its transnational scope and accounted for how the Palestinian struggle is intimately connected to the struggles of Third World peoples, people of color, indigenous populations, laborers, women, queer communities and others. Most importantly, the Joint Council acknowledged that the catastrophe that befell Palestine is one of settler-colonialism and drew stark parallels to US society, stating, "As we stand in solidarity with Palestinian self-determination, we also recognize that here in the United States we have our own systems of structural racism and settler colonialism to resist and dismantle." Last, the Joint Council emphasized the important historical role and mandate that labor unions have and must play today in matters of social justice, freedom and equity.
In the months following the release of the letter, UAW 2865 provided fact sheets, held educational forums across UC campuses, and maintained an open process in which its membership could actively discuss, and debate the issues in order to make informed decisions on voting day. This grassroots character of the campaign was possible because of UAW 2865's democratization structure which encouraged participation by rank and file membership, a structure widely lacking among most labor unions across the US. Several other factors set this initiative apart from other BDS campaigns in the US. The UAW 2865 initiative is the first to simultaneously call for all three components of BDS: boycott, divestment and sanctions, thereby making it a comprehensive strategy with limited contradictions or inconsistencies. By expanding a more justice centered framework of solidarity, such as accounting for the multiplicity of the Palestinian population, the organic relationships between Palestinians and other oppressed communities and the historical context that explains for injustice today, UAW 2865 also expanded its strategies. The overwhelming win of the UAW 2865 campaign proved that monumental victories are possible when maintaining strong, clear, justice-centered and consistent political goals, a collective community working diligently to achieve them and ambitious strategies that set the bar high. While many Palestinians and Palestine solidarity activists have wished to have a stronger political approach to BDS, we are often persuaded that a more limited political framework and strategy might be more successful. UAW 2865's campaign proved the exact opposite. The challenges encumbered in solidarity work for Palestine is not resolvable by a flattening of Palestinian political voices and needs, a liquidation of the Palestinian experience, struggle and national aspirations. In fact, Palestine solidarity circuits stand a chance to produce more effective and successful campaigns if they are to expand political framework, discourse, strategies, sectors and communities they engage with.
Secondly, because of our tripartite role as students, academics and laborers, this campaign is the first initiative to highlight intersections between all three sectors. Therefore it allowed for a re-conceptualization of how growing movements are in fact intersectional and popular and that various sectors can and should be held accountable to one another. An influx of letters of supported were sent to the UAW 2865 leadership and made public, including an internal membership letter from Jewish supporters of BDS as well as a feminist and Queer letter of support. Additionally, two dozen local community based organizations signed a letter of support and a broader Jewish community letter, with over one thousand signatories, was sent in support of the UAW 2865 vote on BDS. However, it was letters that poured in from members of Students for Justice in Palestine (SJP) and SJP's West Coast regional collective, Labor for Palestine as well as other labor movements and a widely circulated faculty letter of support that highlighted the direct intersections of students, academics and labor community organizing.
Third, as the first labor union in the US to officially divest and endorse the academic boycott, UAW created new opportunities for stronger labor union solidarity with Palestine. Labor for Palestine commended the UAW 2865 for taking up the matter and allowing for a full membership vote by stating, "This historic moment is the first time that the membership of any major union body in the United States will have a chance to vote on more than six decades of complicity by their government, university and top labor officials in Israeli apartheid." While, UAW 2865 is the first labor union to allow for a full membership vote, the political climate was also shaped by the unparalleled victory that took place in the "Block the Boat" campaign in which members of International Longshore and Warehouse Union (ILWU) Local 10 refused to handle Israeli Zim Line cargo. The success Oakland's Block the Boat initiative sparked actions at ports from LA all the way to Florida. As a member of the union's BDS caucus noted, "The success of Oakland's Block the Boat makes clear the centrality of organized labor to the global movement for Palestinian freedom. This, and the upcoming UAW 2865 vote on BDS, signal a sea change in US labor's willingness to be complicit in apartheid and ethnic cleansing."
Lastly, as a Palestinian having been involved in various BDS and Palestine solidarity circuits, it was a rare experience that our community's needs, voices and calls for solidarity were not undermined, forgotten or silenced. I have worked for several years with the Palestinian Youth Movement (PYM), a transnational body of young Palestinians who have come together to revitalize our role in the liberation of our homeland. We believe in full justice and liberation and therefore never exceptionalize or prioritize our struggle above the struggles of countless other peoples' fighting for justice in the world. It has helped all of us realize that justice is indivisible and hence we must remain mindful that our efforts to challenge racism, colonialism, sexism, homophobia, and all other structures of power and oppression is not in fact the most we can do, but the least we can do, and is our duty as students, laborers, academics and citizens of the world. Being a part of the grassroots effort to stand on the right side of history and to end my own complicity, as a UC student and laborer, in the occupation of my homeland and dispossession of my people has been a privilege. But most importantly, to watch UAW 2865 leadership and rank and file members display transparent, democratic, thoughtful and principled qualities in the pursuit of social justice, despite efforts from opposition to scare or bully them into silence, has been the most rewarding experience of it all. Their tireless efforts to fight for labor rights, undocumented student rights, gender-neutral bathrooms and to stand for justice from Oakland to LA, Ferguson to Ayotzinapa all the way to Palestine, is what makes them the unique community of social justice thinkers and workers that I am proud to be a part of.
Loubna Qutami
Note: Loubna Qutami is a Ph.D. student in Ethnic Studies at the University of California, Riverside and a rank and file member of UAW 2865: also a member of the Palestinian Youth Movement (PYM).