Los Angeles activists block unloading of Israeli cargo ship for two days
Submitted by
Charlotte Silver
on Sun, 10/19/2014 – 18:51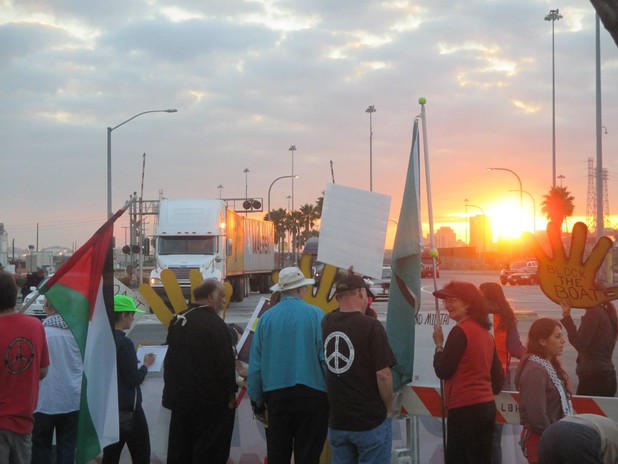 An Israeli shipping vessel was delayed at the port of Long Beach, California, by Palestine solidarity activists.
The Block the Boat coalition of Los Angeles claimed another victory this weekend after an Israeli cargo ship, the Zim Savannah, delayed docking at the port of Long Beach for at least 34 hours.
Cookie Partansky, an organizer with the LA Block the Boat coalition, told The Electronic Intifada that approximately 150 activists gathered at the Los Angeles port at 6am on Saturday, 18 October. The morning's action followed weeks of communication with the longshoremen's union and educating workers about Israel's brutal occupation of Palestine, as well as the group's reasons for targeting Zim, an Israeli shipping line.
The coalition — representing nineteen different activism groups — showed up at the port Saturday morning despite being informed at 5am by a member of the International Longshore and Warehouse Union (ILWU) Local 13 that the ship was still at sea and no workers had been called in to unload it.
"The fact that the boat is delayed for 24 hours is already costing Zim shipping a significant amount of money because their entire schedule will be delayed. This is already a victory for us," Partansky said Saturday afternoon.
Another protest planned
The Block the Boat activists had planned to return to the port Sunday morning, in hopes to again stop the unloading of the ship after the 24 hour delay ended, but were informed by the union on Saturday at 4pm that the morning shift had been canceled.
Now the group plans to return to the Long Beach port Sunday afternoon, at 4pm, when the ship has been rescheduled to unload.
Partansky said that while the rank and file members of LA's ILWU Local 13 have been more "reserved" in their support for the Block the Boat actions than those in the Bay Area union chapter, the LA coalition has continued to reach out to the union and the port truck workers in order to secure their support, and increase their understanding of why the anti-Zim picket lines have been organized.
Block the Boat LA, which delayed a Zim ship from unloading on 23 August, was formed in the image of the San Francisco Bay Area's Block the Boat coalition. That group aimed to prevent the offloading of Zim ships at the Oakland port in response to the brutal, 51-day military assault by Israel on Gaza this summer.
The Bay Area Block the Boat campaign was launched in August and delayed the Zim line for four straight days — widely considered a historically successful action in support of the boycott, divestment and sanctions (BDS) campaign. Other Bay Area activists also delayed the ship from unloading in Oakland on 27 September, and the Bay Area Block the Boat coalition is readying for yet another port shutdown on 25 October.
Update:
The Zim Savannah has again delayed its arrival at the port of Long Beach until Monday, 5pm local time. In a statement to the press, the Block the Boat coalition writes, "Each reschedule has an economic consequence, every twelve hours the Zim vessel is not unloaded the cost is in the thousands of dollars; a victory for Block The Boat Los Angeles."