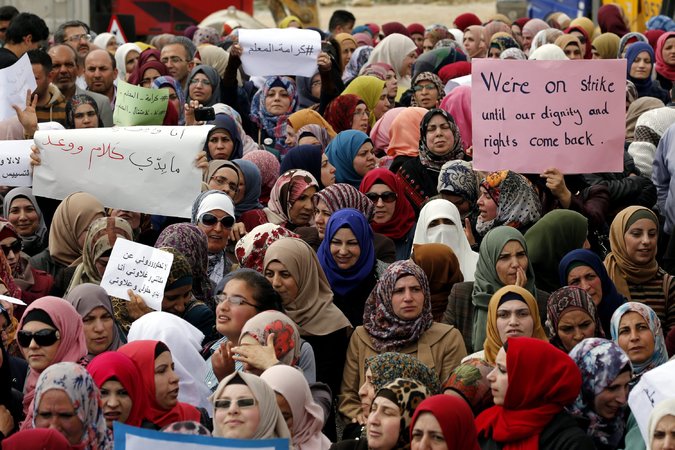 BEITIN, West Bank — Children are watching television all night and lolling in pajamas until late afternoon. Parents are scraping together savings to hire tutors. Day care centers have extended their hours. Laith Zeidan, 17, is spending his days working in his uncle's carwash because, as he put it, "my dad said I had to stay off the streets."
Public schools across the West Bank have been shuttered since Feb. 7, in an unprecedented teacher strike against the ossifying Palestinian government. A dispute that began with the teachers' demand for a pay raise has spiraled into the largest demonstrations in the West Bank in years, and a broad challenge to the Palestinian Authority, which is facing a severe budget shortfall and has responded with threats of arrests and mass firings.
The strike was organized through social media under a hashtag that translates to #dignity_for_teachers, and is a protest against the educators' official union as well as the government. Palestinian leaders have refused to speak to the group's representatives, and are accused of forcing a Palestinian legislator who tried to mediate an end to the crisis into early retirement.
On Monday, as the latest demonstration raged in Ramallah, the West Bank city that is the seat of the Palestinian government, Prime Minister Rami Hamdallah issued a statement saying he hoped to soon reach an agreement, though he did not provide any specifics.
"The Palestinian teacher deserves our respect and admiration," Mr. Hamdallah said. "However, everyone should put the interest of our children and their education ahead of everything."
But parents are worried that their teenagers will not be prepared for university entrance exams this spring, or that classes will be extended into the holy month of Ramadan, which falls in June, when fasting children would struggle to concentrate.
"He is losing his future," fretted Laith Zeidan's mother, Sumaya, shaking her head as she walked to an after-school center here in Beitin, a hilly West Bank village. She works as a babysitter at the center, which is staying open longer to accommodate idle schoolchildren.
Her neighbor, Taghreed Zeidan (many in the village have the same surname), said she had scraped together $150 for a tutor for her two children, and was at her wit's end after weeks of struggling to coax them into studying and to stick to a set bedtime. Nearby, 11-year-old Moataz Nasser, wearing pajamas as he shuffled to the village shops, boasted of being up until 4 a.m. watching the Spacetoon channel.
"Either I have a heart attack and head to the grave," sighed Taghreed Zeidan, "or they will."
The revolt began in early February, when teachers were expecting to receive a 2.5 percent raise and a chunk of back pay, as part of a 2013 agreement to gradually give a 10 percent salary bump over three years. Instead, their paychecks showed a 1.5 percent increase.
Jamal Dajani, a spokesman for the prime minister, attributed the reduced raise to a drop in foreign aid: to $700 million in 2015 from $1.2 billion in 2012, something that officials did not foresee when they made the deal with the teachers. About two weeks into the strike, officials promised to fulfill the 2013 agreement. But with trust broken and the teachers' movement gathering momentum, they demanded a bigger raise, faster promotions and new union elections.
"They thought we were little children, the kind to whom you give chocolates when they are upset to make them feel better," said Louay Nazzal, 36, an assistant principal in Qabatiya, a village in the northern West Bank, and one of dozens of people chosen by each school to coordinate the strike.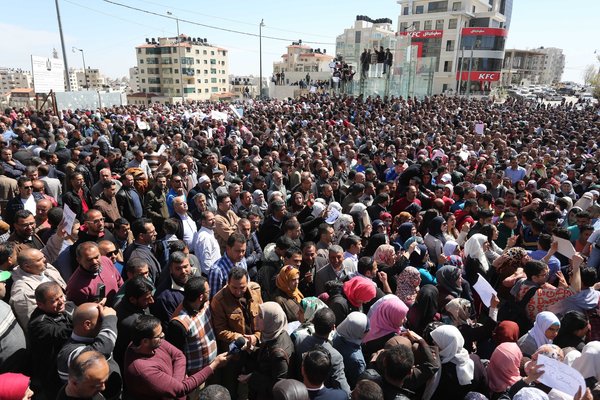 Ehab Al-Jariri, a Palestinian radio commentator, said the leadership was afraid that compromising with teachers could spark other labor strikes. The government's tactic, he said, was to drag out the strike in the hope that teachers would be pressured by the public to go back to work, but that it had inadvertently created what the government most feared: structured opposition.
Nathan Thrall, a senior analyst for the International Crisis Group, said the protests were a manifestation of "huge discontent" among Palestinians toward their leadership. That discontent, Mr. Thrall said, reflects a lack of hopes for statehood or an end to Israel's occupation of the West Bank, anger at corruption in the Palestinian Authority, "just basic frustration that there is absolutely no process of democracy, or elections, or a functioning legislature."
"Palestinians can tolerate a lot of things if they believe they are being led by a national liberation movement," he noted. Otherwise, "absolutely they feel unwilling to live with all this."
There have been four large demonstrations in Ramallah, where students joined thousands of teachers, chanting "dignity" and holding up their pay stubs and handwritten signs demanding more money.
The Palestinian police initially detained some strike organizers and threatened others with arrest. Islamic clerics at one point used mosque loudspeakers to tell teachers to return to their classrooms. The Palestinian police have set up checkpoints to prevent activists from reaching Ramallah on protest days, forcing people to take windy dirt routes and leading to an unwelcome comparison to the Israeli military.
"I was in a bus, and riot police stopped us and asked if we are carrying teachers," said Sajida Hasheah, 18, who was protesting alongside teachers on Monday in Ramallah in a crowd of at least 3,000. "I said: 'No sir, just carrying knives and drugs.'" With a teenage smirk, Ms. Hasheah said she pushed it a little further. "I asked him, 'Should we now smuggle teachers?' "
At another demonstration, on Thursday outside the Legislature's building in Ramallah, Amal Odeh, who is 47 and has been teaching for 25 years, pointed at dozens of blue-uniformed police officers with riot shields and helmets who were blocking a street to prevent protesters from advancing to the Education Ministry. "They should be supporting the teachers, not acting against us!" she exclaimed. "We educated you!"
Some teachers, sharing parents' concern about children falling behind, are giving classes on the sly. At the Beitin Boys' School, three teenagers lugging book bags said a teacher named Bilal had led lessons in math and physics, but the principal would not allow journalists inside the school. The nearby girls' school halted its unofficial classes last week, worried that it could be construed as a break in the teachers' solidarity.
"We shut it down," said a teacher who spoke on the condition that she not be identified, puffing on a cigarette in the school courtyard.
Although they are refusing to teach, many of the striking educators go to their schools each day, to offset the inevitable critique by resentful parents. On Friday in Ramallah, a man confronted Hamed Obeid, a 43-year-old teacher in a faded blazer, as he waited to withdraw money at an A.T.M.
"On strike, but still getting paid?" accused the man, who said he was a black-market money-changer and refused to provide his name. "What do you guys really do, anyway? My kid learns nothing."
Mr. Obeid, who has been teaching in West Bank schools for two decades, straightened his back. "Sir, I spend more time with your children than you do! I raise them!"
He pulled out his pay slip — teachers have taken to carrying them around, anticipating such arguments. It showed the equivalent of about $800 a month. Mr. Obeid said he had a second job, setting up water-filter systems, for about $500 a month.
"Brother, we can't continue like this," he said to the money-changer. "We are desperate."