April 8, 2016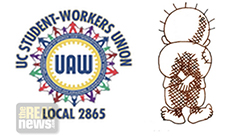 Dear Advocates for Justice at GSOC­UAW Local 2110,
We, members of the BDS Caucus of UAW 2865, are inspired by your campaign to join the global Boycott, Divestment and Sanctions (BDS) movement until such time as Israel adheres to international law by ceasing its oppressive treatment of the Palestinian people. Calling on NYU and the UAW International to divest from Israeli state institutions, and on individuals to respect the academic boycott, are righteous and necessary components in honoring the call for solidarity from Palestinian laborers who are currently suffering under Israeli apartheid and colonization.
In December 2014, our local became the first major labor union in the US to join the BDS movement. In one of our local's historically highest voting turnouts, thousands of members voted, by a landslide, to call on the UAW International and the University of California to divest from Israeli apartheid and colonialism and on the US government to stop all forms of aid to Israel. While the vote has since been nullified by the UAW International, the moral momentum that drove the campaign and the overwhelming outpouring of support we have received following the nullification are testaments to the fact that to support the Palestinian struggle for freedom and self­determination is to be on the right side of history and justice.
One of the guiding visions of our campaign was to trace connections among the logics, institutions and bodies responsible for oppressing Palestinians with similar forces and logics of oppression we experience in our own localities. This framework allowed us to draw parallels with how standing in solidarity with Palestinian liberation is central to our work in fighting for the liberation of all oppressed people, including but not limited to people of color, workers, immigrants, women and LGBTQ communities. In addition, campaigns such as ours, and now yours, highlight the critical importance of our tripartite roles as students, academics and laborers, allowing us to be the protagonists of our stories and active agents of social transformation on our campuses. This nexus reflects how the Palestinian struggle is speaking to multiple sectors and dimensions of identity, activism and people, and it provides an incredible learning opportunity for us to develop collective conversations about our rights and responsibilities to global justice. As students and workers of conscience, it is incumbent upon us to side with all who face oppression and persecution. This is as true of Palestine as it was for South Africa, and surely for the many matters of injustice and oppression we are witnessing in our own campuses and communities here in the US.
Following the UAW 2865 BDS victory, United Electrical, Radio and Machine Workers of America (UE) became the first national union to endorse BDS. The Connecticut branch of the AFL­CIO has also endorsed BDS. This growth in BDS participation among the labor movement and beyond is a reflection that, despite efforts of repression, silencing and criminalization, a movement that belongs to the people cannot be stifled. We are inspired by your courage and ethical fortitude, and we extend our heartfelt support for your efforts. We salute you for practicing ethical, justice­centered and democratic union practices, and are certain that the US labor movement in solidarity with the Palestinian struggle for freedom will only grow.
In Solidarity,
UAW 2865 BDS Caucus