Published Wednesday 31/12/2014 (updated) 02/01/2015 12:56
Palestinian man crushed to death inside overcrowded Israeli checkpoint
Yesterday (Last Update) Time 12:56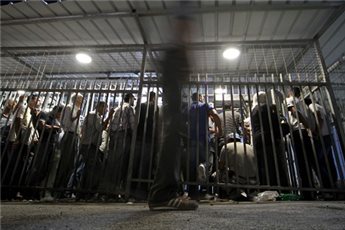 Palestinian workers wait at a checkpoint in Bethlehem to enter
Israel. (MaanImages/file)
TULKAREM (Ma'an) — A Palestinian man from the northern West Bank village of Farun died Wednesday morning after he was crushed to death inside an Israeli checkpoint near Tulkarem as he was trying to get to work.Witnesses said 39-year-old Ahmad Samih Bdeir, who was on his way to a construction job inside Israel, choked to death in extreme overcrowding amid large numbers of people trying to cross the al-Tayba checkpoint, also called Shaar Efrayim.
The witnesses said the crush occurred because of the extremely slow pace at which inspection procedures were carried out by the Israeli soldiers staffing the facility.
The death is the second at al-Tayba this year, after 59-year-old Adel Muhammad Yakoub died in early January as a result of extreme overcrowding at the checkpoint as well.
Inspection procedures at the checkpoint typically take hours as every person must pass through metal turnstiles one-at-a-time.
The turnstiles in turn are controlled by Israeli soldiers from hidden posts, and workers frequently complain about unnecessary delays caused by the soldiers staffing the checkpoints, who are typically 18- or 19-year-old conscripts finishing their compulsory military service.
Following the revolving gates, there are metal detectors and inspection stations. Palestinian are often crowded into metal pens inside the checkpoints, unable to leave or enter, and Israeli soldiers rarely respond to requests for movement from those stuck inside.
Sources in the Palestinian Federation of Trade Unions said that more than 15,000 Palestinian workers pass through al-Tayba checkpoint every day.
They said that the checkpoint is operated by the Israeli military as well as private Israeli security companies.
The group's secretary-general, Shahir Saad, appealed to international human rights groups and trade unions to exert pressure on Israel to remove the "death checkpoints" and protect Palestinian workers.
According to the Palestinian census bureau, around 30,000 Palestinians have received permits to work in Israel and are thus forced to cross the checkpoints on a daily basis.
According to the Israeli rights group B'Tselem, Israel denies permits to tens of thousands of other Palestinians who apply, and up to 30,000 Palestinians work in Israel without permits.
Nine days ago, more than 5,000 Palestinian workers refused to cross the checkpoint in the morning protesting what they called "humiliating" inspection procedures.
Source: http://www.maannews.net/eng/ViewDetails.aspx?ID=751058