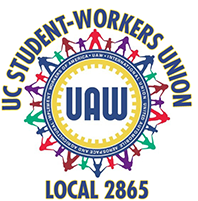 Response to Chancellor's Message on Boycott, Divestment, and Sanctions from Statewide Executive Board UAW 2865 Academic Workers Union & UAW 2865 – Santa Cruz Unit
Dear Chancellor Blumenthal,
We are astounded that your response to a political issue that arouses "passionate opinions on both sides," as spelled out in your recent message, "Campus civility in the midst of turmoil," is to openly vilify one side.
To the SUA's reinstatement of a previous vote in favor of the Boycott, Divestment, and Sanctions of Israel (BDS) to oppose the ongoing occupation of the Palestinian territories, you suggest incivility. These student leaders engaged in nonviolent, democratic, rationally informed decision-making. It is therefore unclear what you might consider "civil"―leaving aside the issue of whether that's a legitimate standard of political speech―if not elected representatives of the student body listening to both sides of an issue and voting to take a stand on it.
What is most reprehensible about your letter, however, is the sly suggestion that the BDS movement has anything to do with antisemitism, and even terrorism. You frame your comment on BDS with references to unrelated political violence, as if solidarity with the oppressed Palestinian people or protests in the name of Black Lives Matter are just a small step from unconscionable terror. This is completely false, and your implicit suggestion to the contrary is harmful to many students on campus, including the hundreds of UAW union members who voted last year to support BDS.
In our view, the most threatening "chilling effect" of the BDS issue has come from university administrators who use their institutional power to discredit student voices as soon as they formulate an opinion. This is in addition to your apparent lack of concern for Palestinian students who, among other threats, have repeatedly been challenged by police while protesting nonviolently at UCSC―just like other dissident students on this campus, whose legacy your administration is nonetheless happy to invoke for fundraising.
In short, your message is unprofessional, objectionable, and, frankly, hypocritical. We hope you will rethink your decision to send it and issue a retraction as soon as possible.
Sincerely,
Statewide Executive Board
UAW 2865 Academic Workers Union
&
UAW 2865 – Santa Cruz Unit