To endorse this statement, please click here. Be sure to put your labor affiliation and/or title in the "comment" section.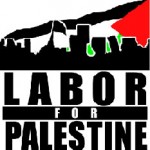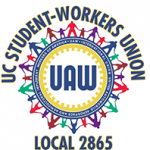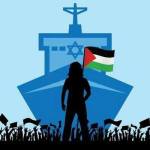 Labor for Palestine Support for UAW 2865 BDS Resolution
"I am cognizant of the interrelatedness of all communities and states. I cannot sit idly by in Atlanta and not be concerned about what happens in Birmingham. Injustice anywhere is a threat to justice everywhere." Dr. Martin Luther King Jr., Letter from a Birmingham Jail, April 16, 1963.
As trade unionists and anti-apartheid activists, we salute 13,000 University of California graduate student-workers who vote this Thursday, December 4 on UAW 2865's resolution to join the Palestinian-led Boycott, Divestment and Sanctions (BDS) movement. This historic moment is the first time that the membership of any major union body in the United States will have a chance to vote on more than six decades of complicity by their government, university and top labor officials in Israeli apartheid.
UAW 2865's Joint Council BDS resolution was adopted on July 29 by a vote of 40-0. It answered urgent calls from Palestinian trade unions and Labor for Palestine issued amid last summer's Israeli war on Gaza — armed and funded by the United States government — that ultimately murdered more than 2000 people, including more than 500 children.
Recognizing that this massacre reflects not only the brutal ongoing Israeli siege on Gaza, but its entire colonial-settler regime, the Joint Council embraces BDS demands for decolonization of all historic Palestine: an end to Israeli military occupation of the 1967 territories; full equality for Palestinian citizens of Israel; and the right of return for Palestinian refugees, as affirmed by UN resolution 194.
Thereby respecting the worldwide BDS picket line, the Joint Council joins the Congress of South African Trade Unions and labor organizations around the world, including ILWU Local 10 dockworkers who refuse to handle Israeli Zim line cargo. As UAW 2865 BDS Caucus members explain:
"The success of Oakland's Block the Boat makes clear the centrality of organized labor to the global movement for Palestinian freedom. This, and the upcoming UAW 2865 vote on BDS, signal a sea change in US labor's willingness to be complicit in apartheid and ethnic cleansing. As the larger Palestine solidarity movement picks up steam, we can expect the grassroots labor mobilization for Palestine to bear greater and greater fruits, until Israeli apartheid is no more."
UAW 2865's BDS resolution also builds on Students for Justice in Palestine's BDS victories at six of nine UC campuses, and is deeply connected to ongoing battles now being waged by UC students and workers against institutional racism, state violence and attacks on public higher education.
As UAW 2865 leaders point out, these struggles are inextricably linked: "Working people everywhere have a common interest in opposing oppression and exploitation wherever they are found. Working together as a global labor movement to oppose injustice around the world strengthens us all in our individual struggles against anti-labor employers and states and in our collective efforts to build the world that working people deserve. An Injury to One Is an Injury to All."
In support of UAW 2865's resolution, the Arab Resources Organizing Center (AROC) similarly observes: "When workers reclaim their power and take a position on the side of justice, they are honoring the legacy of worker-community solidarity, and reminding the world that workers are part and parcel of popular movements."
As one UAW 2865 "Vote Yes" poster simply states: "Palestina & Ayotinzapa & Ferguson & Mi barrio & Tu barrio. Yes on BDS – Dec 4"
During the past fifty years, the Free Speech Movement of 1964, apartheid South Africa divestment in the 1970s-1980s, and numerous other social justice campaigns at the University of California have spoken truth to power, inspired millions, and helped change the course of history.
Today, standing in this proud tradition, you will do the same.
———–
Suzanne Adely, U.S.-MENA Global Labor Solidarity Network; Former Staff, Global Organizing Institute, UAW
Monadel Herzallah, former member, Arab American Union Members Council, San Francisco, CA
Michael Letwin, former President, Association of Legal Aid Attorneys/UAW Local 2325
Clarence Thomas, Co-Chair, Million Worker March; Executive Board, ILWU Local 10
Jaime Veve, Transport Workers Union Local 100, NYC (retired)