KTVU-TV
Posted: 7:34 a.m. Saturday, Sept. 27, 2014
Protesters picket against Israeli-owned ships in the Port of Oakland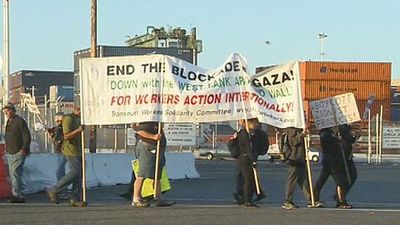 Port of Oakland Israeli ship protest
KTVU.com
OAKLAND, Calif. —
About 70 Protesters with the group "Stop Zim Action Committee" declared victory at the Port of Oakland Saturday morning after Longshoreman declined to cross their community picket line to unload the Israeli cargo ship Zim Shanghai.
"Zim put in an allocation for longshoremen this morning to go to work. One longshormen accepted the job. Everybody else refused to go to work for Zim line today," Jack Heyman, retired ILWU Local 10 member and protest participant, said. He said usually there would be 50-60 longshoremen needed to unload the ship.
Port of Oakland spokesman Robert Bernardo said in a statement to KTVU that, "Although labor (Longshoremen) were able to enter the terminal to report to work; there was insufficient labor to successfully work the vessel."
Protest participant Toby Blome said members of the group had spent the previous week passing out leaflets at the ILWU hall as part of their effort to convince them to support their cause and refuse to unload the Israeli cargo ship.
"We feel like this is a tremendous victory," Blome said. "This is just the beginning."
"They've been picketed in Vancouver, they've been picketed in Los Angeles, they've been picketed in Tampa. They've had to change their schedules. It's cost them maybe millions of dollars," said protest participant and organizer Steve Zelter.
Most of the group left the Port of Oakland around 9 a.m. after they declared victory for the morning shift, but said they would be back around 6 p.m. to convince Longshoremen arriving for the evening shift to continue to honor their picket line. The protesters went home just after 9 p.m.
The event remained peaceful and no injuries were reported.
KTVU contacted a media representative for Zim Integrated Shipping Services Saturday morning to get a response from the company about the protester's actions and claims, but did not hear back from them.