Service will ferry workers from the Palestinian town of Qalqiliya across the border of the West Bank towards Tel Aviv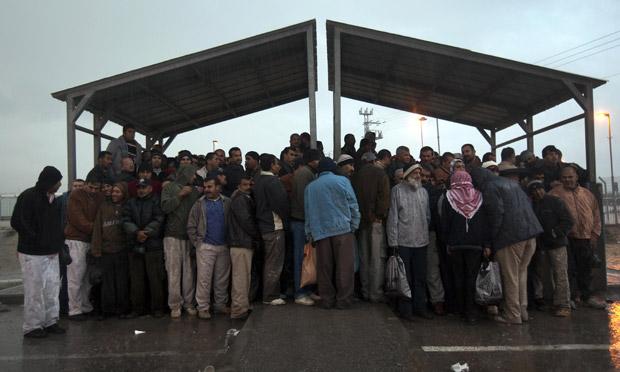 The Israeli government will on Monday begin operating a "Palestinians-only" bus service to ferry Palestinian workers from the West Bank to Israel, encouraging them to use it instead of travelling with Israeli settlers on a similar route.
Officially anyone can use them, but the ministry of transport said that the new lines are meant to improve services for Palestinians.
Information on the new services, which are operated by the company Afikim, have reportedly only been advertised in Arabic and distributed only in Palestinian areas of the West Bank.
The buses will run from the Eyal checkpoint by the Palestinian town of Qalqiliya across the border of the West Bank towards Tel Aviv. The passengers are Palestinians who have been granted permits by the army to enter Israel during the day to work.
Palestinians used to use Palestinian minibuses and taxis to travel into Israel but Israel has increased the number of permits it gives to Palestinians which has led to more mixing on shared routes.
In a statement to the Israeli newspaper, Yedioth Ahronoth, the ministry said: "The new lines are not separate lines for Palestinians but rather two designated lines meant to improve the services offered to Palestinian workers who enter Israel through Eyal Crossing.
"The new lines will replace irregular, pirate lines that charge very high prices from Palestinian passengers. The new lines will reduce congestion and will benefit Israelis and Palestinians alike."
The ministry also said it is against the law to prevent any passenger from boarding a bus but Israeli civil rights groups said this was not the case in practice.
The Israeli civil rights group, Checkpoint Watch, which monitors the army's treatment of Palestinians at West Bank checkpoints has reported recent incidents of Palestinians being ejected from buses and told they were not allowed to board them.
In 2011 Palestinian activists were arrested after they boarded Israeli buses in the West Bank to protest against segregation.