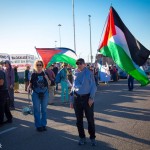 STOP ZIM ACTION COMMITTEE LETTER OF THANKS TO ILWU LOCAL 10 WORKERS AT OAKLAND PORT
Stop ZIM Action Committee
@StopZIMOak snurl.com/stopzims27
October 2, 2014
Brothers and Sisters of ILWU Local 10,
We, members and supporters of the Stop Zim Action Committee, want to express our gratitude to Local 10 members, who in the best tradition of the ILWU, upheld the principle of labor solidarity by honoring our picket line against the ZIM Shanghai on September 27.
We were protesting the Israeli government's genocidal bombings of Palestinians in Gaza that killed over 2,100 people, mostly civilians, as we had informed Local 10 members by leafleting at the union hall. Thanks to your support, day and night, we were able to send a clear message to the Israeli government that when they slaughter innocent Palestinian people, their ships will be targeted by protest actions. This is consistent with ILWU Local 10's position of defending the rights of Palestinians.
Three of the picketing protesters were Local 10 retirees who were organizers of ILWU's historic 1984 anti-apartheid action in San Francisco. One of them announced to a rally at the picket at SSA's Berth 57 that an announcement had been made at the dispatch hall requesting longshoremen not to take jobs on the ZIM ship. The rally broke into thunderous applause as it was reported that only one job was filled.
We know ILWU doesn't have a longshore contract yet and actions like this can be taken by the union without legal retaliation from the employer. There could not have been a stronger showing of support than longshore workers refusing to take a dispatch to the ZIM ship. In return for your solidarity we offer to mobilize ourselves and others from the community to be on your picket line if successful contract negotiations are not achieved and ILWU goes on strike. We've got your back!
An Injury to One is an Injury to All!
Stop ZIM Action Committee