Submitted on Thu, 12/02/2010 – 3:13pm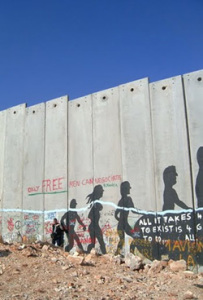 FOR IMMEDIATE RELEASE – December 2, 2010
12/2/2010 The Industrial Workers of the World (IWW or Wobblies) has officially voted to support the Boycott, Divestment and Sanctions (BDS) movement in support of Palestinian rights. The "Resolution in Support of the Workers of Palestine/Israel" was adopted in an overwhelming vote both at the IWW's convention in Minneapolis and by the membership via referendum. This vote makes the IWW the first union in the US and the third union in Canada to officially support the Palestinian United Call for Boycott, Divestment and Sanctions.
Inspired by the struggle against apartheid in South Africa, the BDS movement calls for boycott, divestment and sanctions against Israel until such time as fundamental Palestinian rights are recognized. The BDS call is supported by a broad cross-section of Palestinian society, including Palestinian unions.
The resolution to support the BDS campaign comes out of the work of the IWW's International Solidarity Commission and the IWW Friends of Palestinian Workers Group, a grassroots network of Wobblies supportive of the Palestinian, Israeli and international struggle against Israeli apartheid. Support for the BDS campaign was also stressed by all the Palestinian workers who met with members of the IWW on the IWW delegation to Palestine, particularly the Independent Workers Federation of Palestine, with whom the IWW shares a close bond of solidarity.
"For a union concerned with international solidarity, supporting the BDS movement is the right thing to do", said IWW member Nathaniel Miller, who serves on the International Solidarity Commission and attended the IWW delegation to Palestine. "By officially supporting this BDS call, the IWW stands shoulder to shoulder with Palestinian workers in a global picket line against Israeli apartheid."
"Our support of the BDS movement is in line with traditional wobbly principles of anti-racism and international solidarity"
The IWW Friends of Palestinian Workers Group resolves to continue to advance the cause of Palestinian rights inside and outside of the IWW.
Founded in 1905, the IWW is a union with a long tradition of solidarity and anti-militarism, and has been central to some of the most important struggles in US working class history. More recently, the IWW has been successful organizing at Starbucks and in the fast food industry, among workers long thought to be unorganizable. The IWW is an international union, with members across North America, Europe, Australia, and South Africa.
IWW Friends of Palestinian Workers Group