telesur
1 September 2015
United Electrical Workers Becomes First US Union to Support BDS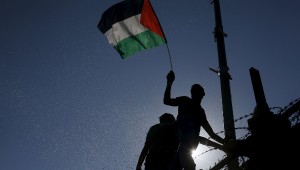 A spectator waves a Palestinian flag during the first leg of the Palestine Cup final soccer match between Gaza Strip's Shejaia and Hebron's Al-Ahly at al-Yarmouk stadium in Gaza City August 6, 2015. | Photo: Reuters
Published 1 September 2015
The UE adopted a resolution calling for a termination of U.S. aid to Israel.
The United Electrical Workers union (UE) has become the first national U.S. union to formally endorse the Boycott, Divestment and Sanctions movement to push Israel to end its occupation of Palestine.
At its national convention in Baltimore Aug. 16-20, the UE adopted a resolution to not only support the movement that began in 2005, but also to call for a termination of U.S. aid to Israel and for U.S. support for a peace settlement on the basis of self-determination and the right to return.
"We reached a breaking point when Israel launched the war on Gaza in 2014, killing over 2,000 people including 500 children. Because Israel has been unwilling to engage in real negotiations to bring about a just resolution to the occupation, this is a necessary step for labor to take in order to bring about a peaceful end to the conflicts there" said Carl Rosen, president of the UE's Western Region and a member of the national executive board.
The UE, which represents 30,000 workers across the U.S. in both the private and public sectors, joins COSATU of South Africa, Unite the Union in Britain, and many other labor unions in supporting BDS.
The Palestinian Postal Workers Union thanked UE for its solidarity, and expressed its hope that other unions will follow suit.
"We would like to express our deepest appreciation for the courageous resolution on 'Justice and Peace for the Peoples of Palestine and Israel'… in support of our right as Palestinians to live in peace and dignity as equals on our lands," said the Palestinian union's response.
The Palestinian union added, "We sincerely hope that other national unions in the U.S. and many other countries will follow in your footsteps. Your active solidarity warms our hearts and gives us hope that one day the working class all over will mobilize as one to help us end this brutal colonial occupation, and bring down the blockade, walls and checkpoints."
This content was originally published by teleSUR at the following address:
"http://www.telesurtv.net/english/news/United-Electrical-Workers-Becomes-First-US-Union-to-Support-BDS–20150901-0038.html". If you intend to use it, please cite the source and provide a link to the original article. www.teleSURtv.net/english