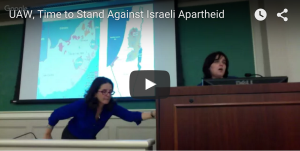 Streamed live on Nov 5, 2015
Labor and Palestine, Part II:
UAW, Time to Stand Against Israeli Apartheid
In this teach-in, we will analyze the role of American organized labor in the struggle for racial and economic justice, specifically looking at the political economy of the Israeli occupation and the ways in which it is analogous to the apartheid regime used in South Africa before 1994. We will discuss how we as members can take action to advocate for justice within our union.
Leila Farsakh is an Associate Professor at University of Massachusetts Boston. She has worked with the OECD and the Palestine Economic Policy Research Institute. Her work concerns Palestinian labor flows, the Oslo Process, international migration and regional integration.
Suzanne Adely is a global labor rights activist, co-chair of the National Lawyers Guild International Committee, and co-convener of Labor for Palestine.
Co-sponsored by NYU Students for Justice in Palestine, International Socialist Organization – NYU Branch, and NYU Law Students for Justice in Palestine.